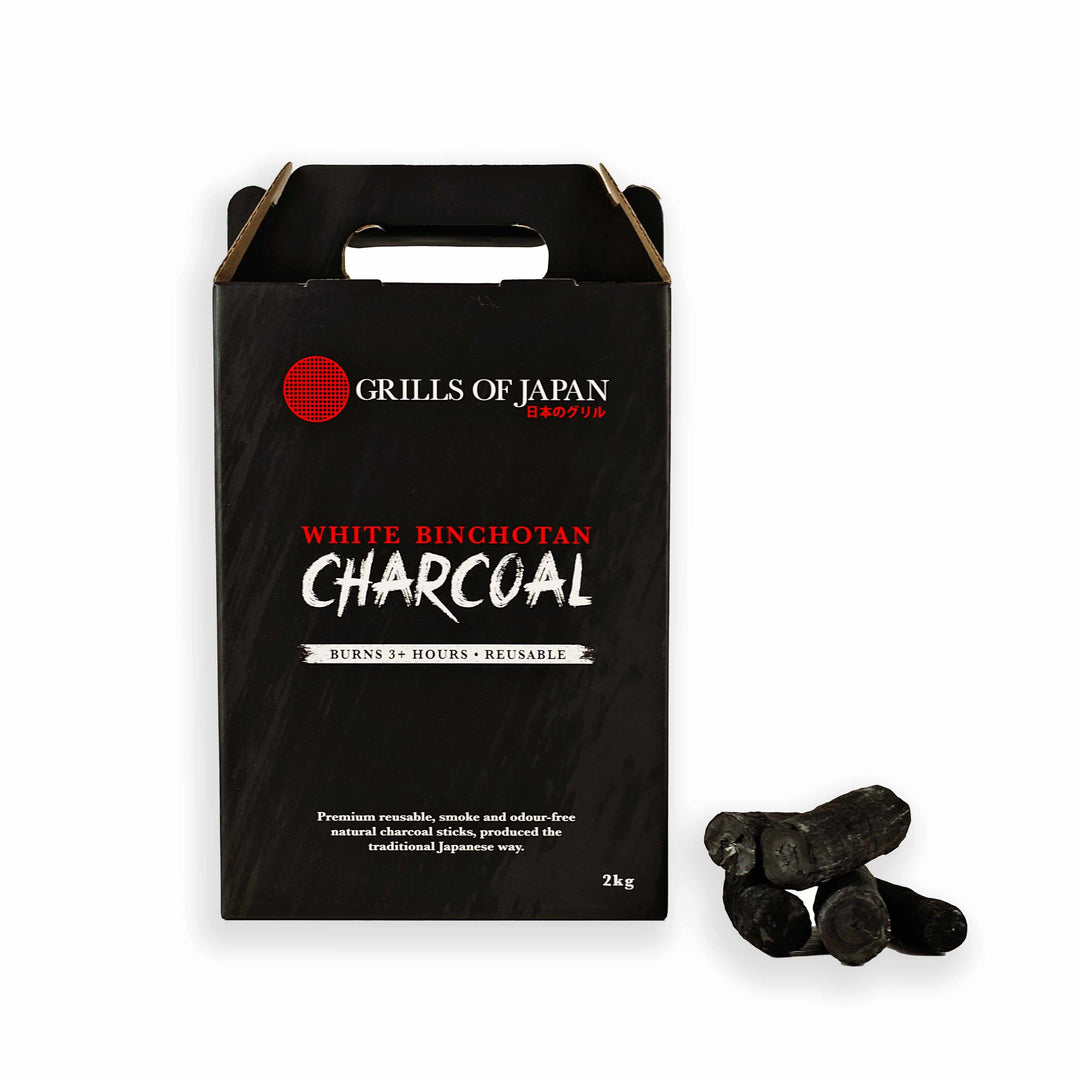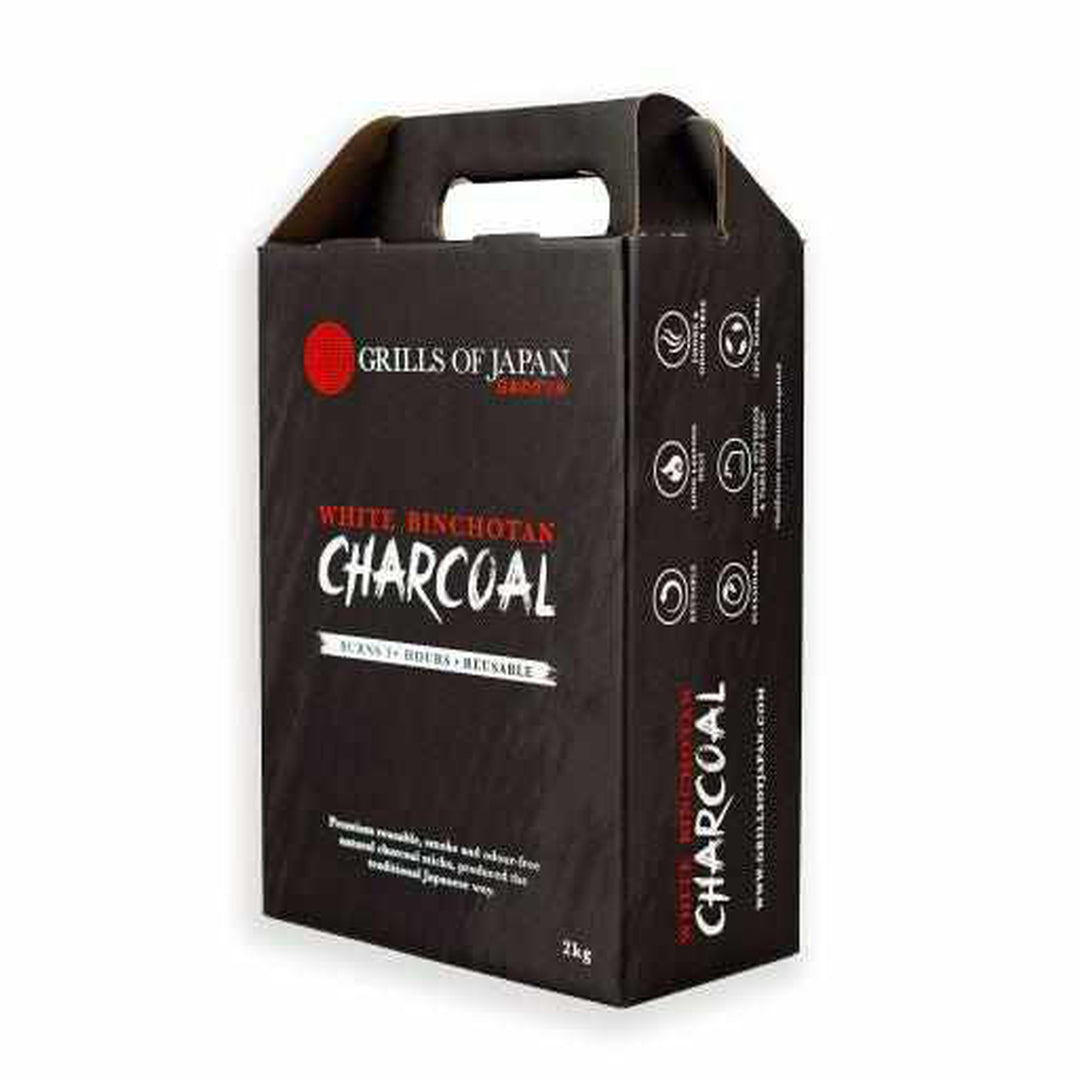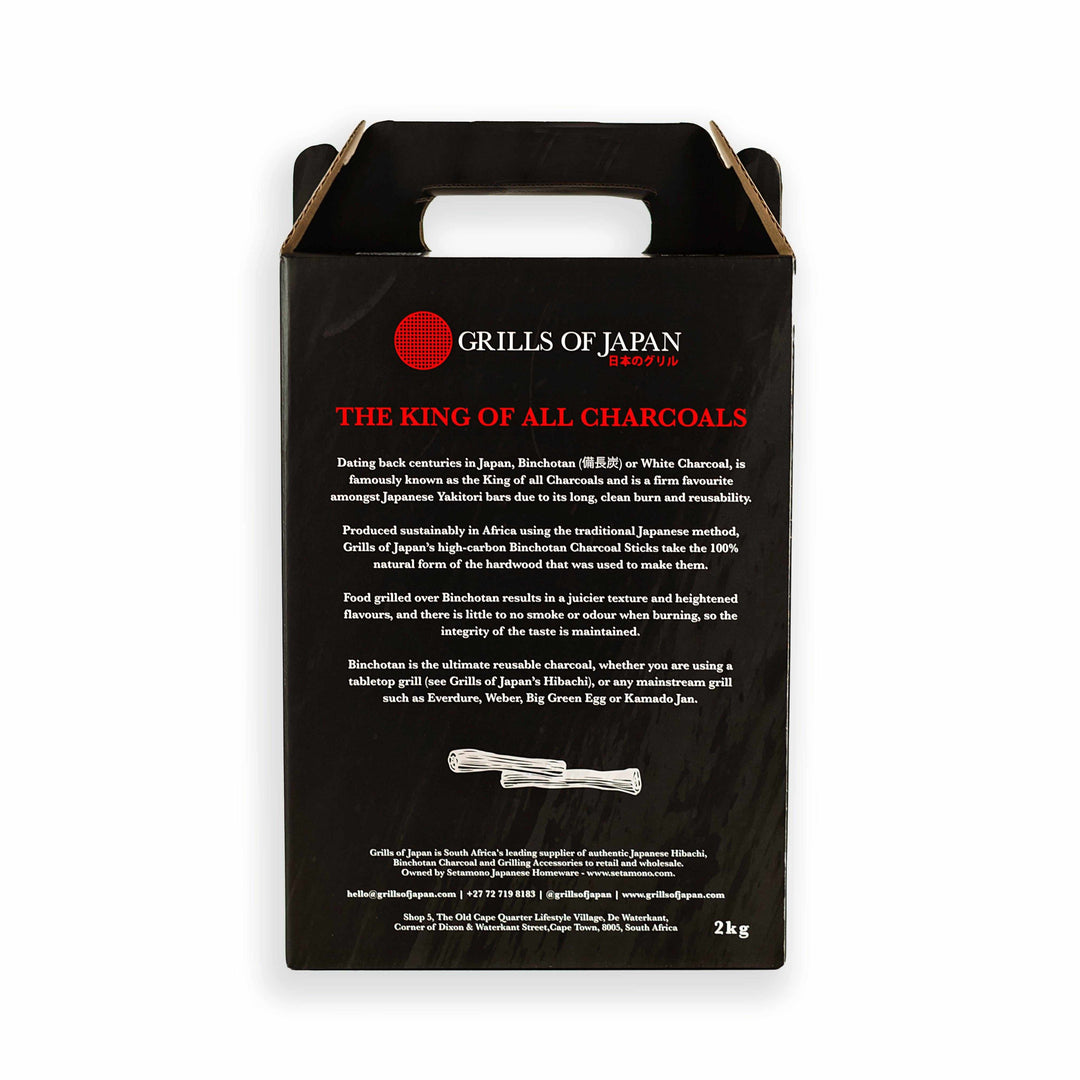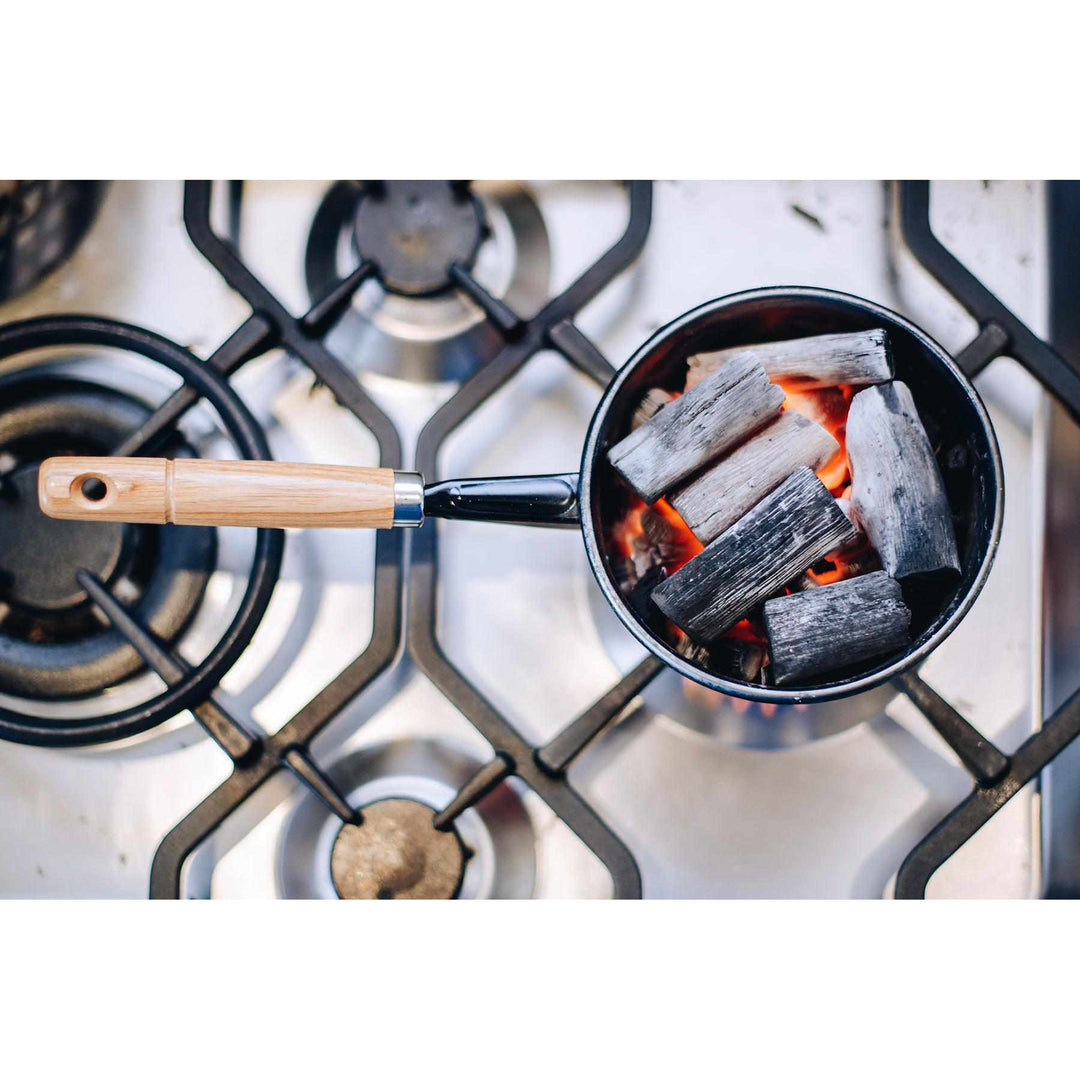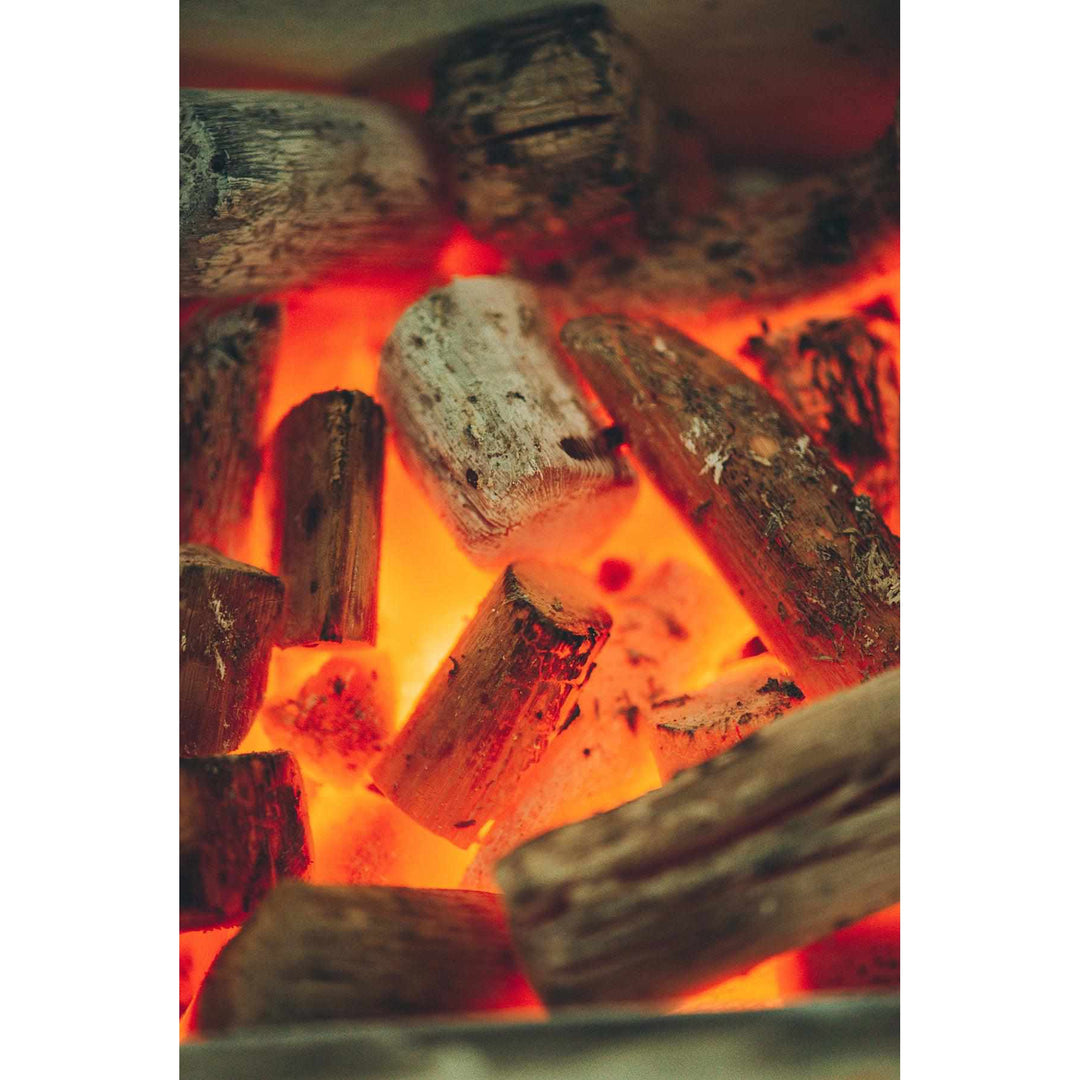 White Binchotan Charcoal
Regular price
R 399.00
/
Tax included.
Shipping
calculated at checkout.
Free shipping on orders over R700
In stock, ready to ship

Inventory on the way
Binchotan, or White Charcoal, is the ultimate charcoal for both indoor and outdoor grilling, whether you are using a Grills of Japan Hibachi or Konro grill, Big Green Egg, Everdure, Kamado Jan, or a Weber. It is a firm favourite amongst Yakitori bars all over Japan.

Why braai with White Charcoal over Black Charcoal?
Binchotan boasts very long and clean-burning properties, and due to the unique infrared nature of the heat, food grilled over Binchotan results in a much juicier texture and heightened flavours.
There is little to no smoke and the Binchotan charcoal is odourless when burning, so the flavour of the food is kept pure and what's more, there are minimal flare-ups. This, of course, all changes when you add fatty meat to the grill.
Depending on the length of your meal, Grills of Japan Binchotan is reusable between 2-3 times. If using Binchotan in any of the above listed grills, simply close all vents once finished grilling in order to extinguish your Binchotan ready for its next use. Otherwise, use a Grills of Japan Ceramic Extinguishing Pot, or simply immerse in water, remove and leave to dry.
Unlike Japanese Binchotan, which has a total burn time of up to 4-5 hours and very little ash, our Acacia Binchotan has a minimum burn time of up to 4 hours with slightly more ash content. Be sure to knock off the ash during grilling to release the heat.
The Binchotan we source is 100% produced from Acacia and grown and processed in Africa. Due to Acacia being an invader species it is a much more sustainably sourced.
Lighting Binchotan can simply be achieved by placing into a charcoal chimney starter outside and transferring the lit coals to your grill, or by using a Grills of Japan Binchotan Charcoal Starter pan on your gas hob for indoor grilling. This can be found on our LIGHT page.
TIP:  If grilling fattier meats place your grill directly under your kitchen extractor and put it on full and grill your favorite cuts.  Remember to clean your kitchen extraction canopy on a regular basis.
Grills of Japan Binchotan comes in varied sizes so should you want to make smaller pieces they can be broken up by simply knocking them firmly together.
SAFETY
Store binchotan in an airtight plastic container or Extinguishing pot to keep dry.
If you notice any cracking or popping sounds you need to dry out the charcoal first. This is because binchotan absorbs moisture from the air. Any moisture inside the charcoal will expand on heating causing cracking sounds/spitting/popping. To dry out A) place in the sun or B) If you want to use straight away, put it on low heat for approximately 10+ minutes. After drying out you can increase the temperature or C) Place into a warm oven at 100 degree celcius for 10 minutes before lighting on a direct flame.
Additionally you can place a metal grill net over the top of the charcoal chimney or Starter Pot for the initial heating phase. 
Always allow sufficient ventilation.
FREE SHIPPING ON ALL ORDERS OVER R700
We use a selection of reputable national courier companies for deliveries, depending on the delivery address.  Your parcel should arrive within 3-5 working days of receipt of the order or POP, if an EFT. Rural delivery may take a little bit longer. We will always advise if there is an expected delay.
SOUTH AFRICA
All delivery costs for products delivered within South Africa are based on a flat rate fee, if under R700 in retail value. R80 for within Cape Town and R120 for National. We also offer a Collection option which is free of charge. 
Collection is from:
SETAMONO JAPANESE HOMEWARE - CAPE TOWN
The Courtyard, Shop 5
The Old Cape Quarter Lifestyle Village
De Waterkant, Corner of Dixon & Waterkant Street,
Cape Town, 8005, South Africa
(You can find us in the Courtyard, opposite Yoga Life or beside Scheckter's Raw)
INTERNATIONAL
We do send orders internationally. Costs for international shipping will be based on specific location. For further information regarding our international freight costs, or if you have a specific enquiry, please email hello@setamonotableware.com
 
All goods are packaged very thoughtfully and with great care.